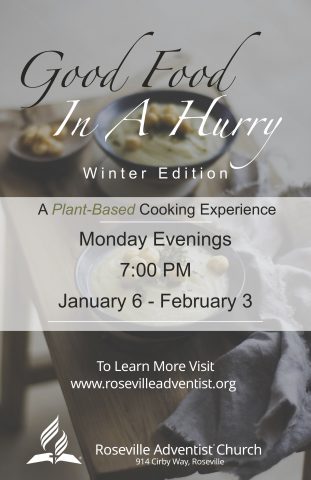 Good Food in a Hurry
Plant Based Cooking School
Monday evenings 7:00 pm
January 6- February 3, 2020
Cost is $10 per person per session / $15 for couples (loosely defined)
Registration at bottom of page
Whether you are committed to a plant based diet or just want to try something new. Whether you are an experienced cook or brand new to the kitchen these classes are a great place to start.  Each recipe is chosen with an eye towards putting nutritious, good looking, good tasting food on the table without spending hours in the kitchen. From weeknight quick fixes and working lunches to crowd pleasers and celebration dishes, come enjoy the fun.  
Recipes will be demonstrated and samples provided each evening.
Specific presentations include:
January 6  Making friends with Beans
How many different meals can you get from one pot of beans?  Lanni will demonstrate 3 completely different dishes from one pot with suggestions for 3 more. Can it really be done and how good are they? You be the judge.   Learn new ways to use old favorites and possibly meet a new bean or two.  Included in this class will be Senate Bean Soup a dish featured at the Senate restaurant in Washington DC where more than one senator would like to claim responsibility for bringing this smokey, creamy bean and potato laced goodness to the public.   New ways of seasoning, new ways of using – these are not your mamma's beans!  
January 13  Dairy alternatives – what do we want? 
Cheese, cheese and more cheese!  Featured in this class will be everything from cheese you can slice, to parmesan cheese you can sprinkle, cheese sauces to add pizzaz to vegetables and cheese so solid you can grate it.  Fresh mozzarella, feta, gouda, sour cream, and 3 ingredient 4 minute ice cream (the hardest part of this recipe is freezing the ice cubes!)  Come and enjoy the fun.   We scheduled this class early in the series because we will refer back to these recipes so often – after all everything is better with a little cheese.   
January 20   Baking without Eggs
Craving a muffin that is light and airy, pancakes that are plant based and not heavy?  This is the class for you.  We will explore egg and oil substitutes of every kind and see what works for you.  From quick breads to cookies, pumpkin pancakes, breakfast burritos and more we will take the mystery out of baking without eggs.  This is not just a breakfast class we will address how to hold a vegeburger or a casserole together without eggs too.  
January 27 Old favorites updated
Come and explore Lasagna, a 20 minute prep version for weeknights and a two person party version for special occasions, Special K loaf, French fry alternatives that are quick, tasty and oil free.  Flannel hash, potato corn chowder (a corn free option available), gourmet mac and cheese and more are on the schedule.  
February 3  Meat alternatives
With all the options available do we really want to mess with making meat alternatives?  My answer is yes, because these are additive and preservative free and I control the seasonings.  Well aware of the gluten sensitives, soy intolerance, corn and nut allergies, etc. a wide variety of options will be presented.  While not every dish can be adapted to meet every need we are trying to provide options to meet every need.  Oats, barley, rice, beans, sometimes gluten, sometimes soy come and see what might work for you or someone you occasionally need to cook for.  Featured recipes will include Vege Cutlets – my go to frozen vegemeat that works everywhere from Thanksgiving dinner to Taco salad,  Unsausage, egg salad sandwich spread, bulgur burger, and lentil links to name a few.
Join us for the fun of family cooking for a new generation.
Registration is open -- Fill out the form below or call 916-786-8350 to reserve your spot!