We want to help you feel comfortable about us before you ever step foot on our campus. We'll walk you through an average Sabbath experience and point out some unique elements we think you'll appreciate. So, what can you expect when visiting our church for the first time? 
Parking:
At RSDA (Roseville Seventh-day Adventist Church) you will find there is enough, even if you happen to come a little late. We purposefully planned for more spaces to make finding a spot easier for you. Parking is found in a circle around our main buildings. Didn't find the right spot your first time around our campus? No problem, just circle back around again. Need mobility challenged parking spaces? We have those located at several places around our drive, all with ramps to access our sidewalks rather than steps. 
Finding the Front Entrance: 
Here is an picture of the front entrance of our church. You will find it on your right hand side of the circular drive. Keep going forward up the driveway and look for the cross. We have three sets of double doors that open into our foyer. You can use any of these to enter our main building where our sanctuary is located. Our Greeter ministry volunteers will  be welcoming you at the door!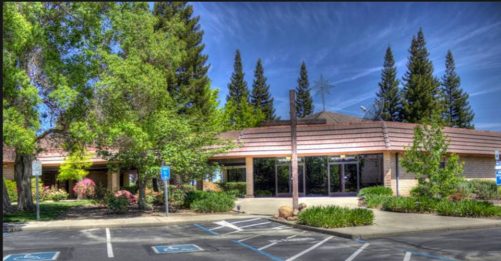 Greeters:
Our greeter ministry team is waiting for you inside the front entrance with warm smiles and a handshake. They will hand you a program for that day outlining the day's events as well as future items of importance. On the back of your program is a color coded map of our campus showing the location of children's Bible classes as well as those for adults. Have a question about what class is right for your child or children? Our greeter team can help you with that. Wondering which of our adult bible classes is better suited to you? Just ask a member of the team. Wondering if it is going to rain later? Probably better stick with your smartphone on that one. 
Our Campus: 
There are two main buildings on our campus: the Worship Center and the Better Living Center. The Worship Center is where our sanctuary and offices are located along with our prayer room and parent's room for parents who's little children are finding it hard to sit through a worship service. Need a quiet place to feed your baby or put them to sleep? We have a room specifically for young parents with this in mind. The Better Living Center side of our campus is home to our Sabbath School Bible classes for children of all ages. This is also where our monthly Sabbath meal is served the second Saturday of the month following our worship service. Plan to join us for a great meal. All food is vegetarian and in case you are a vegan, we almost always have vegan options available. Need a drinking fountain? We have those as well as restrooms in both buildings on our campus. Don't feel like searching for them? Just ask a greeter team member and they will be glad to help you find the one nearest you. 
Bible Classes: 
We believe in Biblical education experiences, something we call Sabbath School. From 9:00 -10:40 every Saturday morning we hold multiple classes where children and adults of all ages have a chance to learn more about what the Bible teaches in groups appropriate to their age (children, youth, young adults, adults). You can find more about the classes we offer for children here. Adult groups meet in several locations and discuss a subject from a preplanned study guide that attendees can go through during the week before arriving to class. One of our groups is more of a small group experience with greater levels of discussion. The other group is a bit larger and slightly more lecture oriented, though there is always time for discussion and it is encouraged. 
Worship: 
11:00 AM -- In its simplest form, worship is an encounter with God that elicits a response in the worshiper. It is both a personal as well as a corporate experience we were designed for. And it is active, participatory, something we do, not something that we watch. Our goal for worship at RSDA is to facilitate that connection between God and those who attend. We seek to enable healthy expressions of emotion--joy, love, praise, thankfulness, gratitude, repentance--within the context of truth. We sing (praise music and hymns), we pray, we give, we read the Bible, and we listen to the Bible being taught and applied to our daily lives. We believe all ages should be involved in worship and have a special story time just for children. And just to put you at ease, we don't ask our guests to stand up and introduce themselves, though we do hope to meet you as individuals at some point before you leave. To see our order of service, click here. 
That largely covers a normal Sabbath morning at our church. It's a day of soul rest--resting our lives, our futures, and our salvation into the capable hands of our God who has done and still does for us what we cannot do on our own, and a chance to remember who we are and just how much we are loved by God. Ready to join us for all or part of the morning's services? Click here for a map. Still have questions? Send us an email or give us a call.